Ge
Ge/Earth, embodies the qualities of fertility and solidity, representing every material aspect of existence. A deeply grounded scent like Sandalwood symbolizes this element like no other and we paired it with another 5 equally earthy scent notes to further compliment its balsamic nature.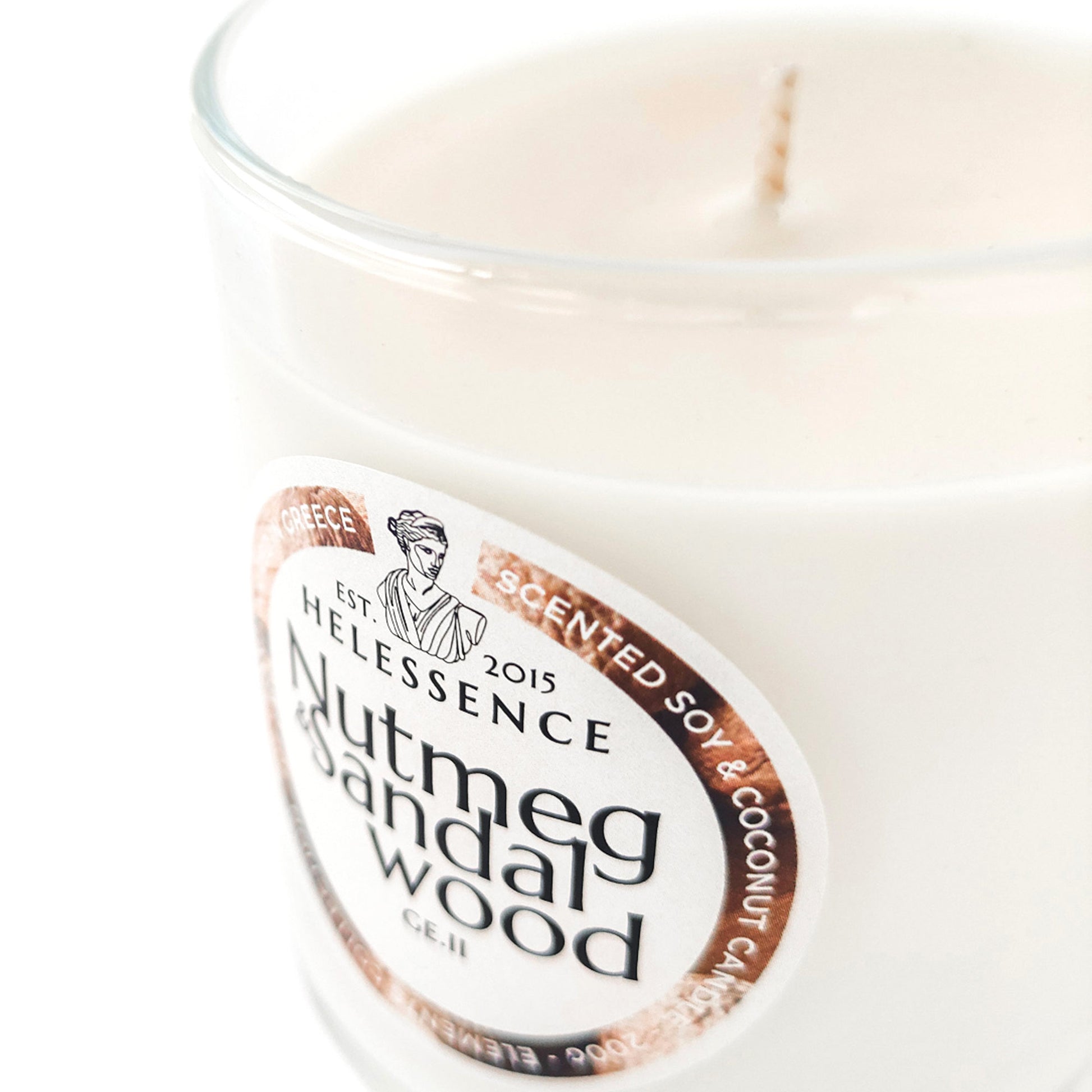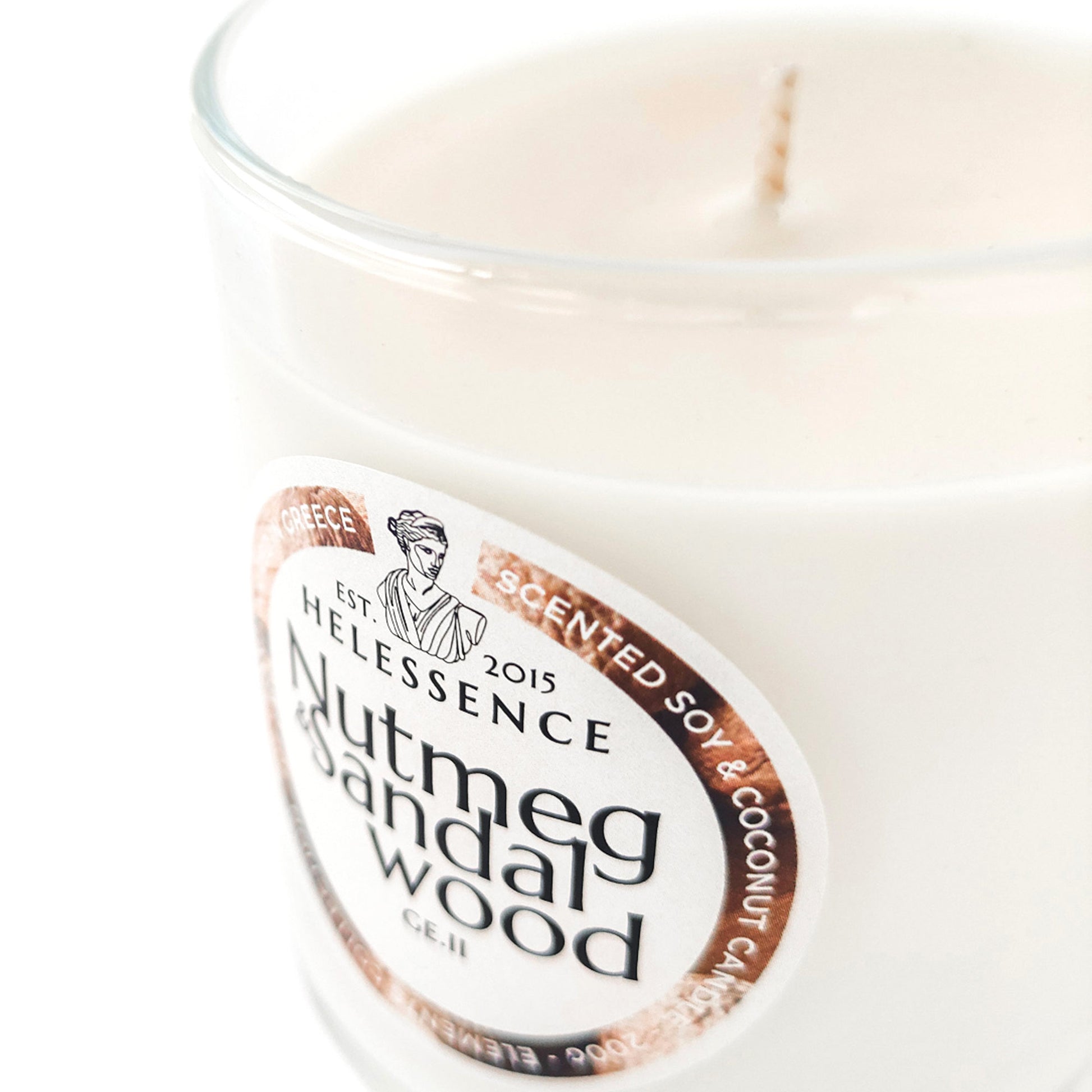 Nutmeg & Sandalwood Scented Candle
Sale price
€20,00
Regular price
Tax included.
Experience a luxurious, exotic aroma with our Nutmeg & Sandalwood Scented Candle. Elegantly crafted with a captivating blend of nutmeg, coriander and sandalwood that will transform any space into an oasis of relaxation. 
Scent notes: Nutmeg / Coriander / Sandalwood
Net weight: 200g / Burn time: 50 hrs
Free Shipping & Returns: On all orders over 75€
Directions
Always trim wicks to 0,5cm before lighting. The first time you light your candle, let it burn for 3-4 hours to allow the melted wax to reach the edge of the container and to prevent your candle from tunneling.

Candle Safety
Do not place a burning candle near anything that can easily catch fire like curtains, clothes and papers. Place candle on a stable, heat-resistant surface. Keep lit candles away from drafts, ceiling fans and any air currents. Never leave a burning candle unattended. Extinguish all candles when you leave a room or before going to sleep or if the flame gets too close to the candle holder or container. A candle should not be burned for more than four hours at a time. Discontinue burning a candle when 0,5cm of wax remains in the container.
Diffuser Safety
Slowly remove the stopper with a gentle, twisting motion and place the reeds into the bottle. Flip the reeds bi-weekly. Do not place the bottle on any surface that may be damaged by perfume oils. Do not get on skin or clothing. Keep out of reach of children & pets. Do not place bottle, reeds or cap directly of fabric or finished surface as it may cause damage. Evaporation will vary due to different air conditions in each space. Please use caution when removing or replacing the stopper.
Shipping
We ship all orders within 1-2 business days. Domestic shipping with ACS courier. Rates start from 4,50€. International shipping with DHL or UPS. Rates start from 9,00€ and calulated based on total order weight.
International packages may be subject to customs, duties or other fees that are calculated by country. The customer is responsible for paying any and all customs duties and fees. International packages may be delayed by customs. Unfortunately, we have no control over these circumstances.

Refunds & Exchanges
Due to the nature of our products, used candles cannot be returned or refunded. However, we will replace or refund products damaged during shipment if photographic proof of damage is submitted to Helessence within 7 days of delivery.

You may also exchange your product for another one of the same price within 14 days of purchase. The buyer is responsible for shipping cost on all return items.
In the event the package is damaged during shipping you may return your unused product(s) for a full refund of your purchase price, less shipping and handling within 14 days of delivery. Please contact us at sales@helessence.com for further details.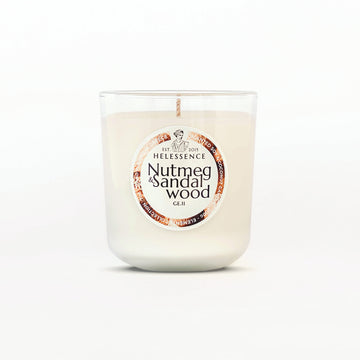 Nutmeg & Sandalwood Scented Candle
Sale price
€20,00
Regular price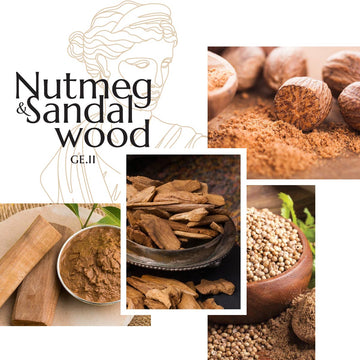 Smells like...
The warm, earthy richness of nutmeg meets the bright, citrusy allure of coriander, brought together with the balsamic woodiness of sandalwood creating a sensual spectacle of oriental allure